Blog Archives:
Aug 3,2013
Leave a comment
Uncategorized
Book That DJ – A DJ Company For The New Age
Our DJ Company "Book That DJ" is proudly serving the Greater Toledo Area. Northwest Ohio, Southeast Michigan, and MORE! We want you to know our staff. Book That DJ offers Wedding DJ, Party DJ, Corporate Sound, etc. For Birthday Parties, Holiday Parties, Pool Parties, and of Course Weddings. Book That DJ specialize in Weddings. Our company is evolving into a Trend Setting DJ Company. If you're looking for a fun, creative, and energetic Toledo DJ Company, Look no further.

Written By:Jason Kelley from Book That DJ – Toledo's Top Wedding DJs
Jul 30,2013
Leave a comment
DJ Secrets | Uncategorized | Wedding DJ | Wedding Tips
We love doing the Dash for cash. Otherwise known as the Dollar Dash. We as professional wedding djs make it as fun as possible. We hope you enjoy it as much as we do.
Don't forget to check out our other Videos on our Pics/Vids Page.
Jun 11,2013
Leave a comment
DJ Secrets | Other DJ Event | Wedding DJ | Wedding Tips
Are you afraid your wedding will be just like every other wedding this year? Well, so are we. That is why we apply our creativity and experience in helping you plan the most unique and personalized wedding possible.
Don't just settle for the same old routine. A lot of Wedding DJ's have been trained to follow a certain timeline and music regiment. NOT BOOK THAT DJ. You tell us that you don't want "Elevator Music" during your dinner hour, we know exactly what you mean. Which is why our Online Planning Process allows you to have complete control. Not just the online planning process, but also our open communication will allow you to have exactly what you imagine for your wedding.
We suggest a lot of Fun and Trendy New Things to do at your wedding that will ensure your guests have an amazing time. But, they are merely suggestions. You have the final say as to what will happen throughout the evening. For instance the video below is of the entire reception doing the "Train". It was AWESOME for this group of people, but it may be "corny" or "silly" for you and your guests. It all depends on what you want and don't want to do. We have plenty of other suggestions.
Our DJs are fun and energetic (without being "Over The Top"). If you don't want a DJ that just sits there and plays music, You've come to the right place. But if you do, you still came to the right place, because that is what you want and it's your special day! Our Company is Based on Customer Service.
We hope you enjoyed this article. Please "Like" us on Facebook <–Click Here
Apr 16,2013
Leave a comment
DJ Secrets | Wedding DJ | Wedding Tips
This past weekend we had an abundance of work to do. From meeting with upcoming brides to finalize wedding details, to working a Business Expo and even another Bridal Show. Building business isn't always just a fun thing to do, it takes hard work, dedication, and some very long days. However, despite how busy we were this past weekend, we still managed to come to the rescue for a lucky bride.
Sometimes being in the right place at the right time could be considered "Fate" or "Destiny".
We experienced this on Sunday Evening. We were meeting with a bride at a coffee shop to go over final details for her wedding. After a very long and busy weekend, we were still maintaining our focus and highly professional work ethic. We were right in the middle of going over her timeline for her special day, when we overheard in the distance (very faintly) another patron say to her friend "Do you know any Good DJ's?". We don't know if it's a case of selective hearing or a constant sense of awareness that this seemed much louder than anything else around us. So of course we were inclined to respond. We asked the bride we were there with very politely to hold on a second, got up quickly and walked to the table that the question came from, handed the young lady our business card and simply stated, "We are a GREAT DJ Service". Her eyes lit up and she seemed to have a wave of calmness come over her. Sure enough the bride we were meeting with yelled over to the table "They are Awesome, you will be in Great Hands, Trust Me!". Meaning she must have heard it as well, and was enthusiastic about everything we have done for her so far. We sat back down and continued our meeting with our bride.
After the meeting…
The young lady looking for a DJ came over to our table and began to explain that her wedding is coming up in a few months and she has been stressing because she has not found a good enough DJ company. She said she had met with several companies in the area and just was not satisfied with certain things. So it seemed to be fate that we were in the right place at the right time. We went over all that we offer with our company and she was completely in awe. She said, "I thought a DJ was just going to come and play music, but you guys do so much that it actually makes my planning and other aspects of the day seem much easier".
MISSION ACCOMPLISHED!
We were able to provide our services for this lucky lady that as fate would have it was exactly where she needed to be when she needed to be there.
Mar 11,2013
Leave a comment
Anniversary | Birthday Party | Corporate Event | DJ Secrets | Mitzvah | Other DJ Event | Uncategorized | Wedding DJ | Wedding Tips
We are more than just DJs!
Our Top 3 aspects of our DJ company that sets us apart from the rest are what make our clients so happy and stress free! Take advantage of these elements by Booking That DJ! As soon as you book with our company you get access to these…
1. Open Communication with our DJ Company.
Not only will you have full communication access to your dj, but also with anyone else in the company.  Our company is more like a family than a company. We treat all clients as if they were family as well. Whether it be through Facebook, email, text, phone, twitter, our website, our communication lines are always available for you. We have a 24 hour policy as well. What that means is that if you don't reach one of our staff members right away, we will respond within 24 hours. We understand the importance of having answers right away in order to ensure things are less stressful.
2. Our Passion and Creativity.
We are constantly staying up to date on all of the latest "Trends". Not just in the wedding industry, but in pop culture and the party scene as well. We enjoy making lasting memories and what better way than to do something completely original. Our staff has creative "Brainstorming" meetings often to try to come up with new and exciting ways to ensure our clients and their guests have the most fun possible. Whether it's making a brand new and original "mashup" or "Mix" for your specialty dances, or simply "Playing Along" with a theme idea. We enjoy what we do and want you to enjoy it too.
3. Our Planning Process.
The other two aspects of our company also play a big part in the Planning Process that we have perfected for you. By having our Open Communication policy it makes it easier to get answers for planning questions. The passion and creativity we bring to the table allows for "Outside The Box" options that you may not have thought about on your own. We like to get involved and help make the event as successful and memorable as possible. Alongside these two options, the online Planning Area allows for you to have complete control. All of our clients are given an exclusive password to their own "Client Area" on our website. There they have access to over 80,000 different songs to choose for play list creation, a Planning Form, a Timeline, and so much more! This area is exclusive to our clients and can be accessed 24 hours a day 7 days a week. So if you're up at 3am because you just can't sleep, you can "tinker" with an original play list that will make your event even more fun.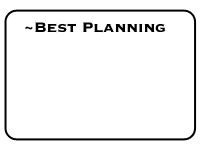 On top of these three things, we (of course) have the
Experience, Professionalism, Affordability, and Knowledge
to create lasing memories for you and all of your guests. We not only know Music and Planning, but we know Sound. Sound is an important factor for everything to maintain a balance. If your sound isn't pleasant than all the planning just goes out the window. We have TOP of the LINE equipment to ensure you have the Best SOUND possible!
If you enjoyed this article, please share it.