We are more than just DJs!
Our Top 3 aspects of our DJ company that sets us apart from the rest are what make our clients so happy and stress free! Take advantage of these elements by Booking That DJ! As soon as you book with our company you get access to these…
1. Open Communication with our DJ Company.
Not only will you have full communication access to your dj, but also with anyone else in the company.  Our company is more like a family than a company. We treat all clients as if they were family as well. Whether it be through Facebook, email, text, phone, twitter, our website, our communication lines are always available for you. We have a 24 hour policy as well. What that means is that if you don't reach one of our staff members right away, we will respond within 24 hours. We understand the importance of having answers right away in order to ensure things are less stressful.
2. Our Passion and Creativity.
We are constantly staying up to date on all of the latest "Trends". Not just in the wedding industry, but in pop culture and the party scene as well. We enjoy making lasting memories and what better way than to do something completely original. Our staff has creative "Brainstorming" meetings often to try to come up with new and exciting ways to ensure our clients and their guests have the most fun possible. Whether it's making a brand new and original "mashup" or "Mix" for your specialty dances, or simply "Playing Along" with a theme idea. We enjoy what we do and want you to enjoy it too.
3. Our Planning Process.
The other two aspects of our company also play a big part in the Planning Process that we have perfected for you. By having our Open Communication policy it makes it easier to get answers for planning questions. The passion and creativity we bring to the table allows for "Outside The Box" options that you may not have thought about on your own. We like to get involved and help make the event as successful and memorable as possible. Alongside these two options, the online Planning Area allows for you to have complete control. All of our clients are given an exclusive password to their own "Client Area" on our website. There they have access to over 80,000 different songs to choose for play list creation, a Planning Form, a Timeline, and so much more! This area is exclusive to our clients and can be accessed 24 hours a day 7 days a week. So if you're up at 3am because you just can't sleep, you can "tinker" with an original play list that will make your event even more fun.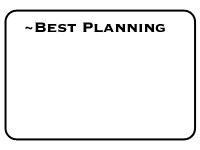 On top of these three things, we (of course) have the
Experience, Professionalism, Affordability, and Knowledge
to create lasing memories for you and all of your guests. We not only know Music and Planning, but we know Sound. Sound is an important factor for everything to maintain a balance. If your sound isn't pleasant than all the planning just goes out the window. We have TOP of the LINE equipment to ensure you have the Best SOUND possible!
If you enjoyed this article, please share it.